Time to Buy Cryptocurrency – Cryptocurrency is a volatile asset class that experiences a lot of ups and downs. People often get the idea that they should try to time their investments by purchasing within specific windows to get the best possible price. However, because cryptocurrency is traded 24 hours a day by investors around the world, timing a cryptocurrency buy is never cut and dried.
If you want to invest in crypto, your best bet is to practice dollar-cost averaging, or buying a little bit at a time over an extended period. Even if you invest at intervals that turn out to be not all that low, you will catch others that are very low, and things may average out.
There are ebbs and flows to the crypto market that vary wildly depending on the specific cryptocurrency you're buying. Tokens may trade with yet another pattern. For someone intent on timing a crypto purchase, it will pay to really analyze the history of specific investment types.
When is the best time to buy cryptocurrency?
To make it short and sweet, the best time to buy a cryptocurrency is when you're ready to buy a cryptocurrency. Using the dollar-cost averaging approach, you'll be able to control the volatility of your investment (at least to some degree) and avoid the roller coaster ride.
Never put more into a crypto than you're willing to lose. They are not guaranteed winners or asset classes that provide any sort of security, especially if they tank. Some people have made significant amounts of money on the right buy at the right time, but it's often more about luck than astutely timing the market.
Best time of the day to buy cryptocurrency
Because crypto trades all day long, even into the wee hours of the morning (no matter where you happen to live), timing your trades to a certain time of day can be fraught. However, if you analyze a few months of data, a few very general patterns emerge.
Bitcoin (CRYPTO:BTC), Ether (CRYPTO:ETH), Binance (CRYPTO:BNB), Solana (CRYPTO:SOL), and Cardano(CRYPTO:ADA) trading activity tends to rise and fall at roughly the same time, which is handy for the sake of comparing windows to buy the cryptos with the highest market capitalizations.
Looking at data in the 90 days prior to Sept. 7, 2022, the very best time of day to purchase these popular cryptocurrencies in the United States generally was in the afternoon. Other coins not considered to be as "serious" also followed similar patterns as Bitcoin and Ether, such as Shiba Inu (CRYPTO:SHIB) and Dogecoin(CRYPTO:DOGE).
Best time of the week to buy cryptocurrency
Based on the same data used to determine the best time of day to buy crypto, the best day of the week to buy crypto seems to be Tuesday, followed closely by Thursday and Saturday.
However, the 2022 crypto winter has been causing steep and random drops in prices that don't seem to be connected to much other than fears of the market dropping even further, so there are plenty of deviations from this pattern.
Best time of the month to buy cryptocurrency
With crypto, everything is constantly changing, which is a problem if you're trying to time purchases. For the moment, however, the best time of the month to buy is typically near the end of the month. Values tend to rise in the first 10 days, followed by a price collapse (probably because people are selling after increases) during the second half of the month.
Again, this may vary with some cryptos or smaller altcoins. Based on the coins with the highest capitalization rates, however, the trend seems to be fairly consistent.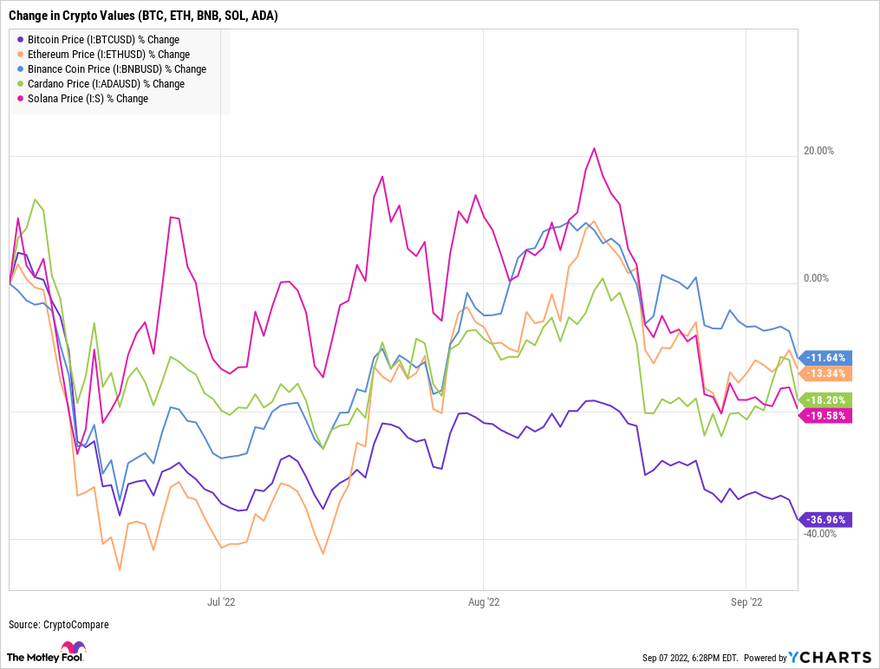 Source: YCharts.